Brief Overview
Clinic to Cloud would like to introduce a streamlined approach to manage and claim Bulk Bill and DVA invoices.
The option to create a Draft invoice is now available. When this invoice is complete and it is time to claim, the Submit button will mark this invoice with a Ready status to be automatically transmitted at 1:00am AEST daily.
The Short Version
Create an invoice with or without an appointment.
Ensure the correct invoice type is selected before creating the invoice.
Check and update the invoice details before proceeding with adding the billing item numbers.
Add all relevant billing item numbers and service text.
Select the option to create a Draft invoice to save and claim later or Submit this invoice to automatically be transmitted at 1:00am AEST daily.
Instructions
1. Create an Invoice. Do you have an appointment?
If yes, select the appointment on the Scheduler and the Invoice icon.

If no, select the Invoice icon and type your patient's name. Select a Location and Doctor.

2. Select the type of patient. What type of invoice are you creating?
If in hospital, select in-patient.
If in rooms, select out-patient.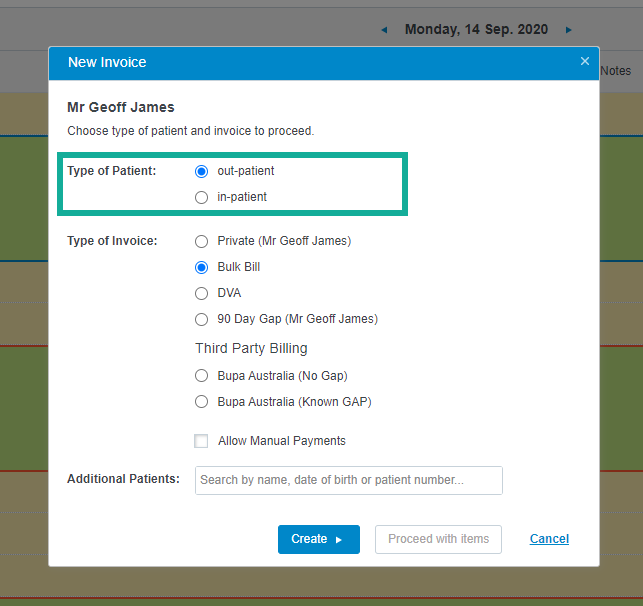 3. Select the type of invoice. Who is the account holder?
If Medicare, select Bulk Bill.
If Department of Veterans Affairs, select DVA.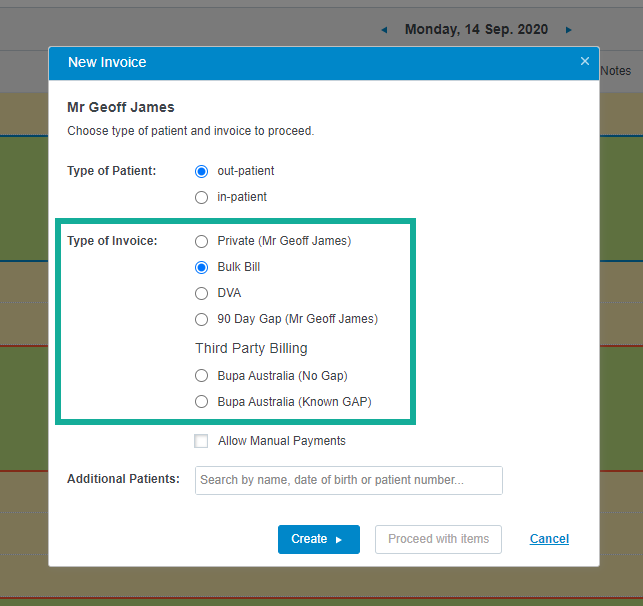 4. Select Create.
5. Complete the relevant invoice details where applicable.
Tip: Check the Referral and Location are correct.

6. Add the relevant item numbers.
Tip: Ensure the correct date and time of service is selected for this item.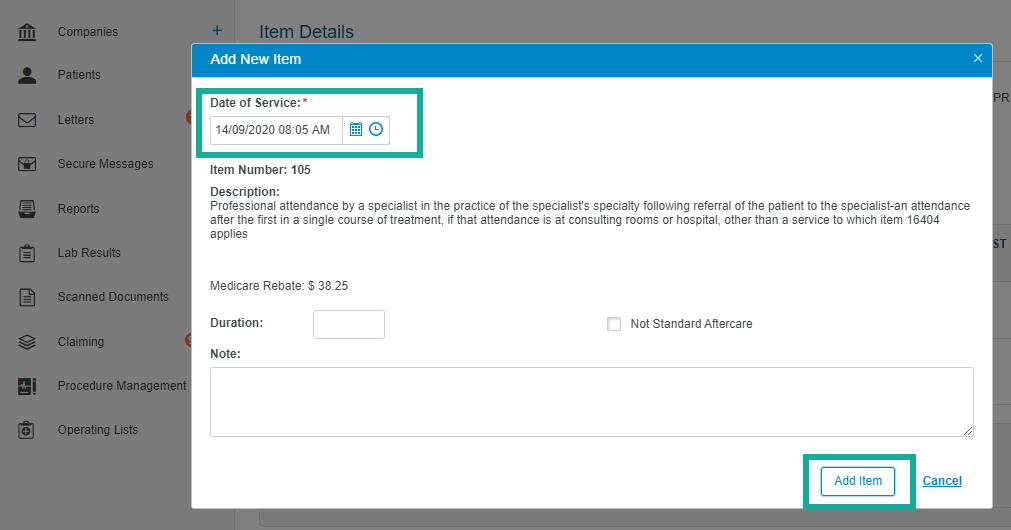 7. If you are using the Patient Portal and would like this invoice to be visible to the patient, leave the Publish this Invoice radio button selected.

8. Optional, Does the invoice, DB4 (Bulk Bill) or D1216S (DVA) form need to be printed?
Toggle the required selection for printing before clicking Submit.
Note: The toggle defaults to OFF

9. Is this invoice ready to be submitted to Medicare/DVA?
If no, select Draft to continue editing this invoice.
Tip: Draft invoices can be found In Progress or Invoice History to continue editing until it is ready for submission.

If yes, select Submit to queue this invoice for transmission at 1:00AM AEST daily.
Tip: If Submit is chosen the invoice can be found In Progress with a Ready status.

Is the Submit button inactive?
Invoices with a failed verification and/or missing important information cannot be submitted until all of the required information is correct. The Submit button will become available once all flagged information is resolved. Draft will be available to save the invoice for further editing.
Verification of this patient has failed
Tip: Patient verification can be completed on the Demographics page.

Validation of this invoice has failed and information is missing.
Tip: Refer to the highlighted errors for the missing information.

10. Additional Features
Import details from Fee Estimate
Choose from the list of created procedure estimates for this patient. Details will drop into this invoice to save time duplicating information. Find out more


Delete
The Admin user type is able to remove invoices in Draft status with the Delete button.

Cancel
To leave without saving any changes, select the Cancel button.

Further Reading