All patient demographics related setting can be found under "Patients Management", this can be accessed by clicking on "Patients" from the vertical menu bar, on the left side of the screen.

The patient management window will open, as below

There are a number of different options to view / select a patient demographic.
1. If the name of the patient is known, type in the name in full or the first few characters, either first name or last name in the search window and press enter, all names matching the search will be displayed as above.
2. There a number of ways to view the patient demographics from this window
A. Click the view button which will display all the patient demographics for the patient, as per screen shot below.

B. Alternatively click on the drop down arrow (as per screen shot below) then select the relevant menu option.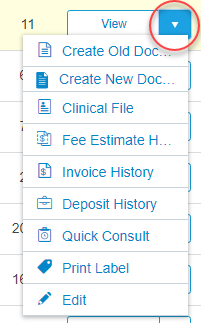 Note: If all patients including deceased patient's demographics are needed to be displayed, ensure the "Show Deceased" box is ticked as per screen shot below.