Brief Overview
If you would like to export your patient data from Clinic to Cloud, you can use the Export tool. This will create an Excel Spreadsheet (XML) file of your data. The following information can be exported.
| | | | | |
| --- | --- | --- | --- | --- |
| Users | Contacts | Patients | Account Holders | Referrals |
| Appointment Types | Appointments | Consults | Allergies | Measurements |
| Tasks | Checklists | Letters | Laboratory Results | Attachments |
| Documents | Referral Files | Op Reports | Emergency Op Reports | Checklist Templates |
| Companies | Scripts | Recalls | O&G History Record | O&G Records |
| O&G Antenatal Visits | Interested Parties | Locations | | |
Please note:
Your data export will be a zip file containing an XML file, the XML file contains your exported data. XML files are used specifically for data exporting and uploading. Financial data is not included.
Patient documents are not included in this export, if you do require patient documents to be exported, please email us at support@clinictocloud.com.au for more information.
Short Version
Open Settings > Export.
Click New Export Task.
Select the items you would like to export.
Click Request.
Download the file when generated.
Instructions
1. Go to Settings > Export.

2. Click New Export Task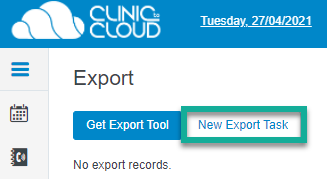 3. Select whether you'd like to create a complete export or if you want to filter the export to a specific doctor.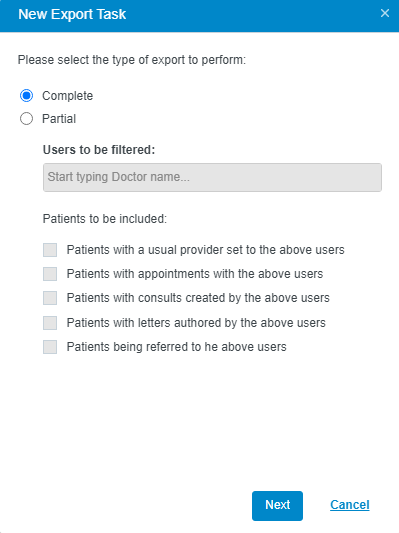 4. Select what you need to export, or click Select All, then click Request.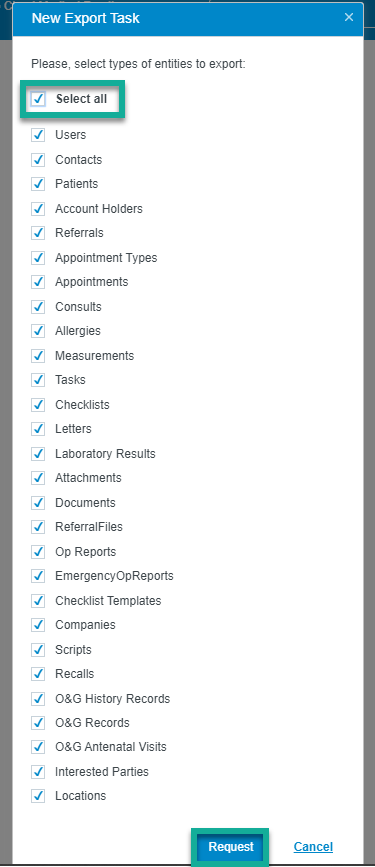 5. Your data may take some time to generate, depending on how many items are to be exported. When generated, click the export data link that is generated and it will download the zip file.

Your zip file will typically save under 'Downloads' on your computer, however this is dependent on your browser settings. If your zip file has not saved under 'Downloads', it is recommended that you search for the file name on your computer to locate it.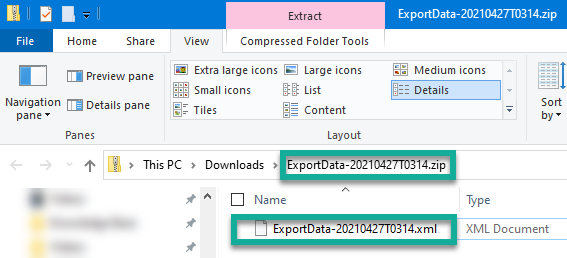 Further Reading