This article explains the components that make up the Portal Payments Dashboard. This dashboard is used to create and manage the Stripe Accounts needed for the Online Payments feature in the Patient Portal.
The Short Version
Go to Settings > Patient Portal Settings > Portal Payments tab.
Use the top section to create and activate stripe account(s).
Use the bottom section to monitor status updates and review stripe account(s) information.
Switch On, Create & Activate Stripe Account(s) on Patient Portal
This section begins the process of enabling your practice to take Online Payments from patients via the Patient Portal.
Use this area to create Stripe Accounts, manage the account's Verification Status (in the dashboard) and Activate the service so patients can start paying their accounts online.
View these articles for more information on creating Stripe Accounts: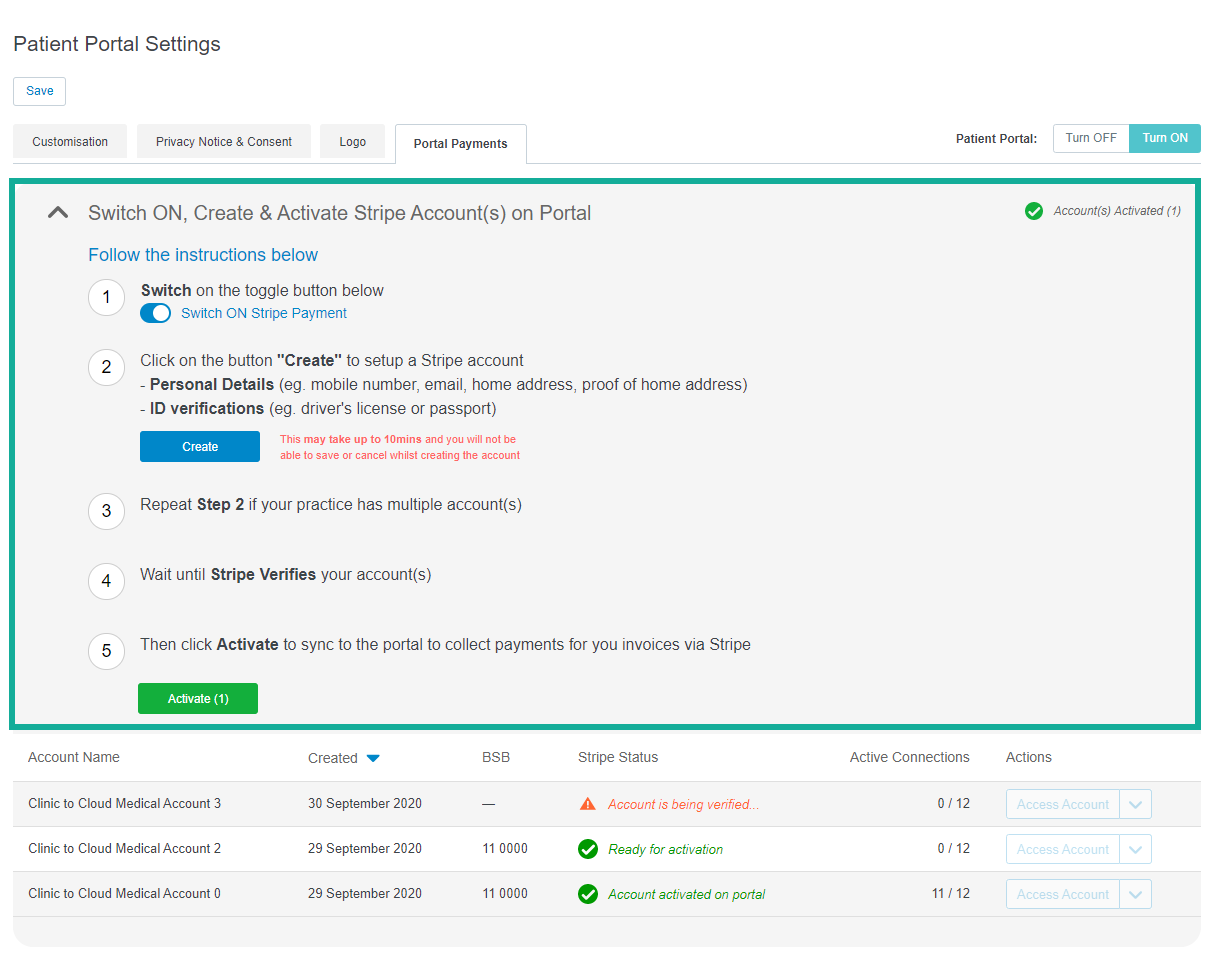 Accounts List
This is the list of Stripe Accounts that you have created. From here, you can review the following information:
Account Name: The account name you have chosen for Stripe.
Created: The date the Stripe account was created.
BSB: The BSB of the bank details saved to this Stripe account.
Status: The current status for the account.


Account is being verified:

Stripe are processing your request, please check back later.
Click the status to see if information needs to be added or updated.

More information is required:

Stripe have been unable to verify your account.
Click the status to see what information needs to be added or updated.

Ready for activation

Your Stripe account has been verified.
You can now activate Online Payments for the Patient Portal.

Active Connections X / Y:

X = The number of Providers that are linked to this Stripe account.
Y = The total number of Doctor user types in your practice.


Actions: Allows you to review your Stripe Account(s). The options are:

Access Account: Takes you to the Stripe account review page. Here you can see:

Payouts tab.

Your current balance (since the last payout).
Update bank account details (click the pencil Edit button).
A list of recent payouts.

Each Payout is the value of all transactions that have occurred via Stripe each day.

Account tab

Review and update your Stripe Account information.

Edit: Updates the Stripe account name label (this is an internal label only for your practice).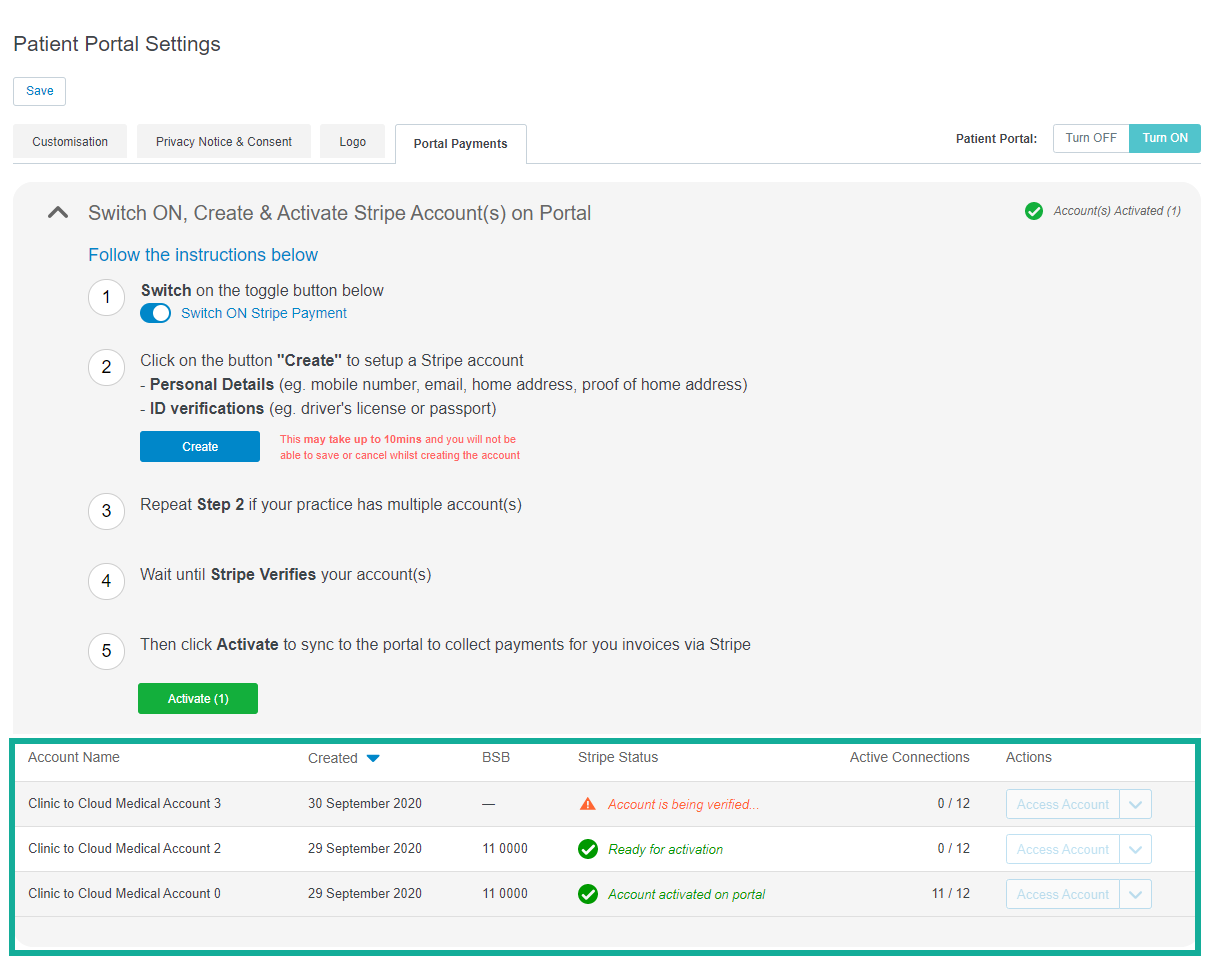 When you receive your first payment from Stripe, you will receive an SMS that looks like this: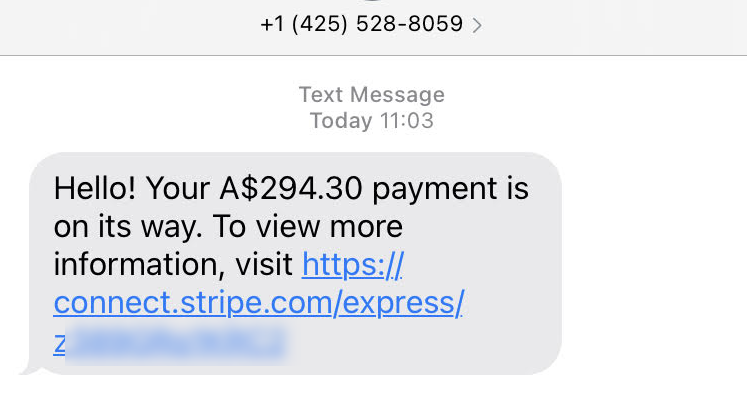 This message will be sent directly from Stripe, with an American phone number. This will only occur for your first payment.