Follow these steps to create letters within the system for patients/referrers.
Note: A letter must be attached to a patient.

1: There are a few ways to create a letter:
- Highlight a patient's appointment and click the letter icon (screenshot above).
- If there is no appointment for the patient, you can click the quick consult icon and then create a letter within the consult (screenshot below).
- Within a usual consult, you can click the letter icon (screenshot below).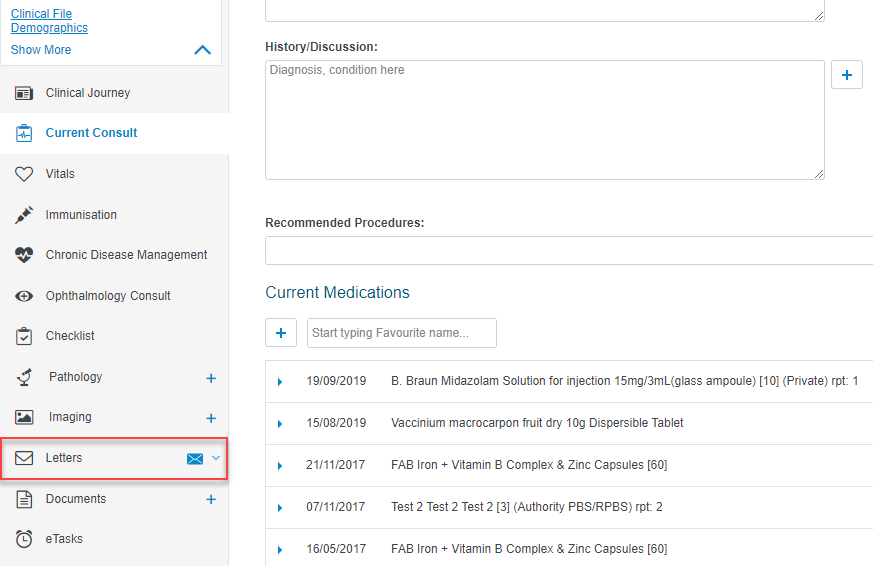 This will bring up the letter module.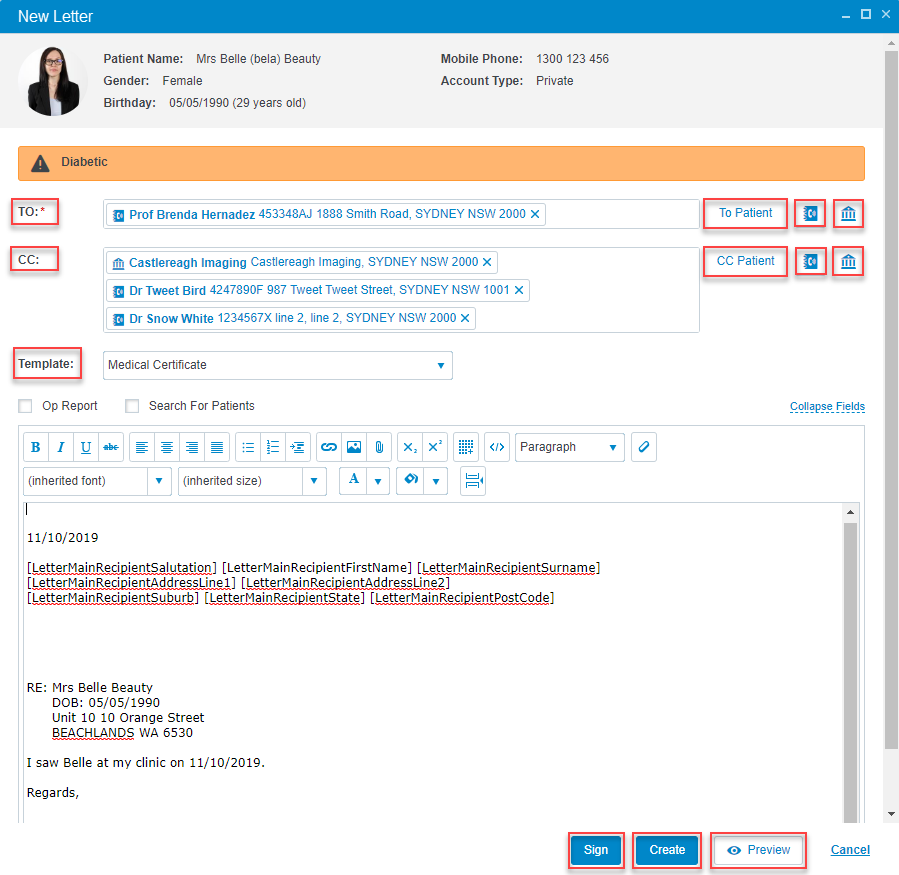 2. Here you will choose the desired variables:
- Select the template you wish to use.
- Select who you are addressing the letter to.
- Select who you want to CC into the letter. (Note: The CC option doesn't change who the letter is addressed to, it will just create multiple letters in the letter list so you can send them off through secure messaging or print them off separately as required. If you have the correct template tags setup, the CC'd names will appear within the letter).
- Edit the text within the letter as required.
You can then Sign, Create, Signed not Sighted (If activated), Preview, and Cancel.
Create: Keeps this letter in the letters list to edit/sign/send at a later date.
Sign - Signs and puts the letter in the letter list to action by admin/reception.
Signed without sighted - When letter creations or edits have come through from admin and you do not want/need/have time to review the letter, you can advise that you have signed but not sighted the letter within the body of the letter.
Preview - Shows how it will appear when printing.
Cancel - Cancels the current letter and closes out of the module.

3. Once signed, the letter will appear in the letters list for admin/reception to action.
Icons:

= Prints the letter

= Prints an envelope



= Archives the letter (so print the letter first, then click this).



= If secure messaging is setup for the recipient, click this and the letter will be sent through secure messaging.



= View the letter.

4. Once the letter is sent, it will appear in "Archived Letters". You will also be able to view and print existing letters.
Note: Secure messaging letters will be under Sent in the secure messaging section.