Brief Overview
The Pending Fee Estimates report is used to manage your outstanding un-booked Fee Estimates for your patients.
Short Version
Created Fee Estimates will display in the report until linked to an appointment.
Open Procedure Management > Pending Fee Estimates.
Apply any necessary filters for the Provider, Location, or Procedure.
Click Show.
You can click Download Excel to download a spreadsheet copy of the results.
Instructions
1. Create a Fee Estimate for a patient. Instructions on creating a Fee Estimate can be found in this article.
2. Open Procedure Management > Pending Fee Estimates.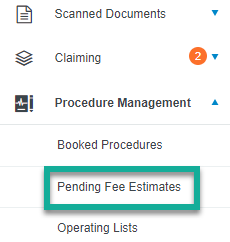 Note: If you can't see this option, then you may need to enable Procedure Management through Settings > Practice Details. This can only be completed by a Practice Admin user.
3. Apply any required filters for Doctor, Locations, & Procedure. At a minimum, you will need to select a Doctor.

4. Any Fee Estimates that have not yet been linked to an appointment will be displayed. You can then complete several actions from this window.
| | |
| --- | --- |
| | Send an SMS to the patient. |
| | View the Fee Estimate. |
| | Open the patient's Appointment History. |
| | Delete the Fee Estimate. |
5. The total value of the pending Fee Estimates is displayed at the bottom of the Fee column.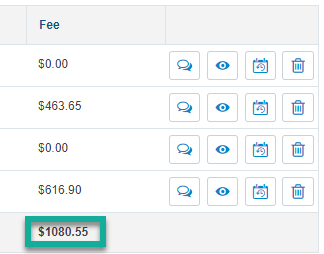 6. You may click the Download Excel button to export the results to a spreadsheet, that you can open in Microsoft Excel.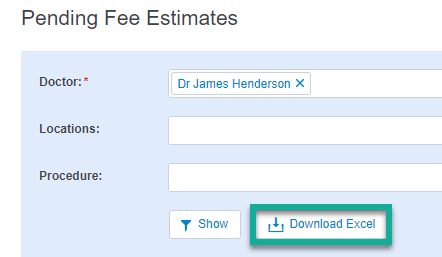 Further Reading