Brief Overview
To reduce manual work you can pull the information, which was entered into the Fee Estimate, into the Invoice following the procedure. If the doctor has updated the item numbers in the Operation Report these will also update automatically in the invoice.
The Short Version
Select the patient appointment with a linked Fee Estimate and then click the Invoice icon
Select the type of patient and type of invoice
Click Get Fee Estimate to pull information from the Fee Estimate into the Invoice
Instructions
1. Click the patient appointment on the scheduler which has a Fee Estimate linked to the appointment. The appointment will show with a link icon on the top left of the appointment.
To learn more about linking a Fee Estimate to an appointment click here.

Note: The appointment will show with a blue line highlight if it is selected.
2. Click the Invoice icon.

3. The below pop-up will appear. Complete the information based on the Fee Estimate created. If the Fee Estimate was created as an In-Patient and Private then the invoice needs to be created the same way.
Click Get Fee Estimate. (the Account Holder will display in brackets next to the private option, if this is incorrect you will need to change the account holder in the patients file under Account Info > Account Holder)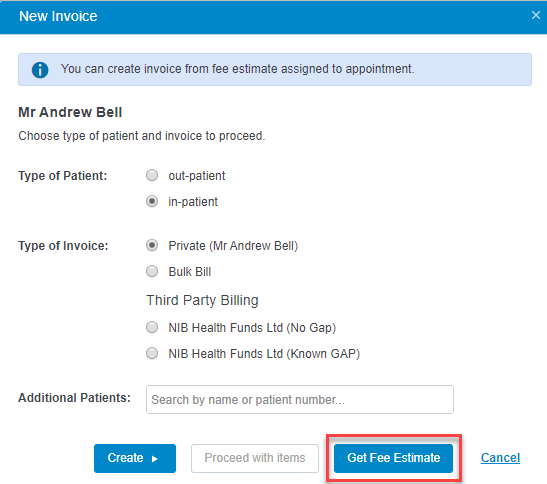 3. Proceed with the invoice as normal, all information from the Fee Estimate will apply to the invoice. For more information about finishing the invoice go click How to create an invoice