Note: This article is intended for Clinic to Cloud customers whose Start Date was on or after 25th September 2020. If you started prior to this date, please see read this article.
Brief Overview
This article will show you how to add a new Provider to your Clinic to Cloud practice.
The Short Version
Contact us at support@clinictocloud.com.au to advise that you are adding a new Provider.
Go to Settings > Users > Add New User, and fill in the required information.
Click Create & Configure to finish setting up the user.

Click here for more detail.

If required, fill in the Medicare Banking Details form and the Medicare Online Claiming form to register the new Provider with Medicare.

Click here for more detail.
Instructions
1. Advise Clinic to Cloud of the new Provider.
Send an email to support@clinictocloud.com.au and advise the following details:
Is this a new provider or replacing an existing provider?
Are they full time or part time?
This is to ensure we check your agreement and let you know of any associated costs.
2. Create the new user.
Go to Settings > Users.
Note: If you are replacing an existing user ensure that you also make the current user profile inactive by clicking the Padlock icon. If you leave the current user profile active you may be billed incorrectly.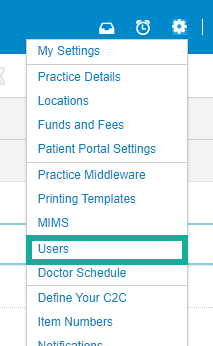 Click Add New User.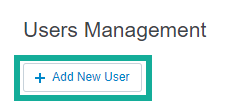 Fill in the Provider's general details, and click Create & Configure.
Note: Mandatory fields are marked with a red *.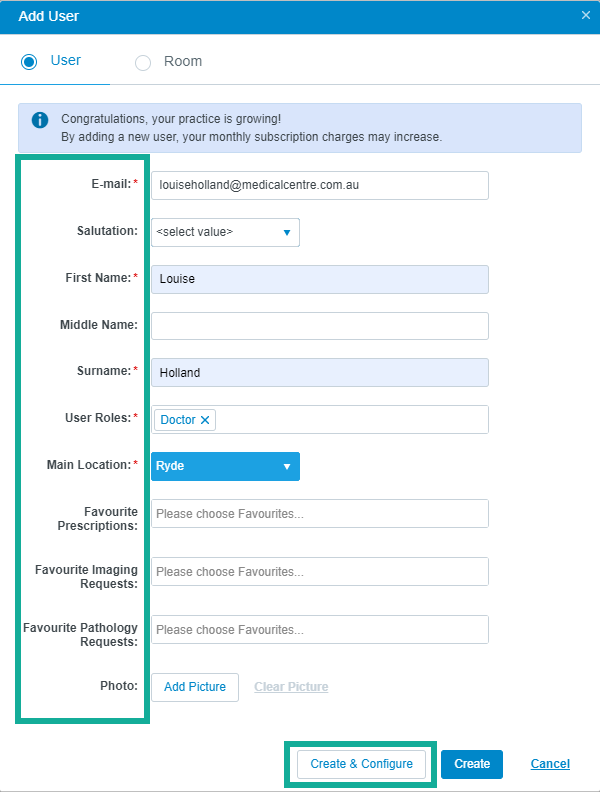 Fill in the Provider's specific details. For detailed instructions, click here.

Note: If you need to register the Provider with Medicare for a Provider Number, this article can assist you.
To locate your Minor ID to complete the forms, go to Settings > Practice Details > Medicare Settings tab.

Further Reading