Brief Overview
Once you have registered with Tyro and have received your Tyro terminal, you will need to integrate this with Clinic to Cloud to reduce time when invoicing. Tyro integration within Clinic to Cloud is available for Easyclaim, Extras cover, and EFTPOS.
Note: You will need to contact Clinic to Cloud Support to have Tyrpo enabled in your C2C.
Note: Setting up the integration is only available to users who have Practice Admin access.
The Short Version
Go to Settings > Tyro
Pair the terminal
Map bank accounts to the terminal
Instructions
Pairing your terminal
1. Go to Settings > Tyro

2. Select Tyro as your terminal solution.

3. Follow the pairing instructions provided on the EFTPOS terminals page and on your Tyro terminal to activate the integration.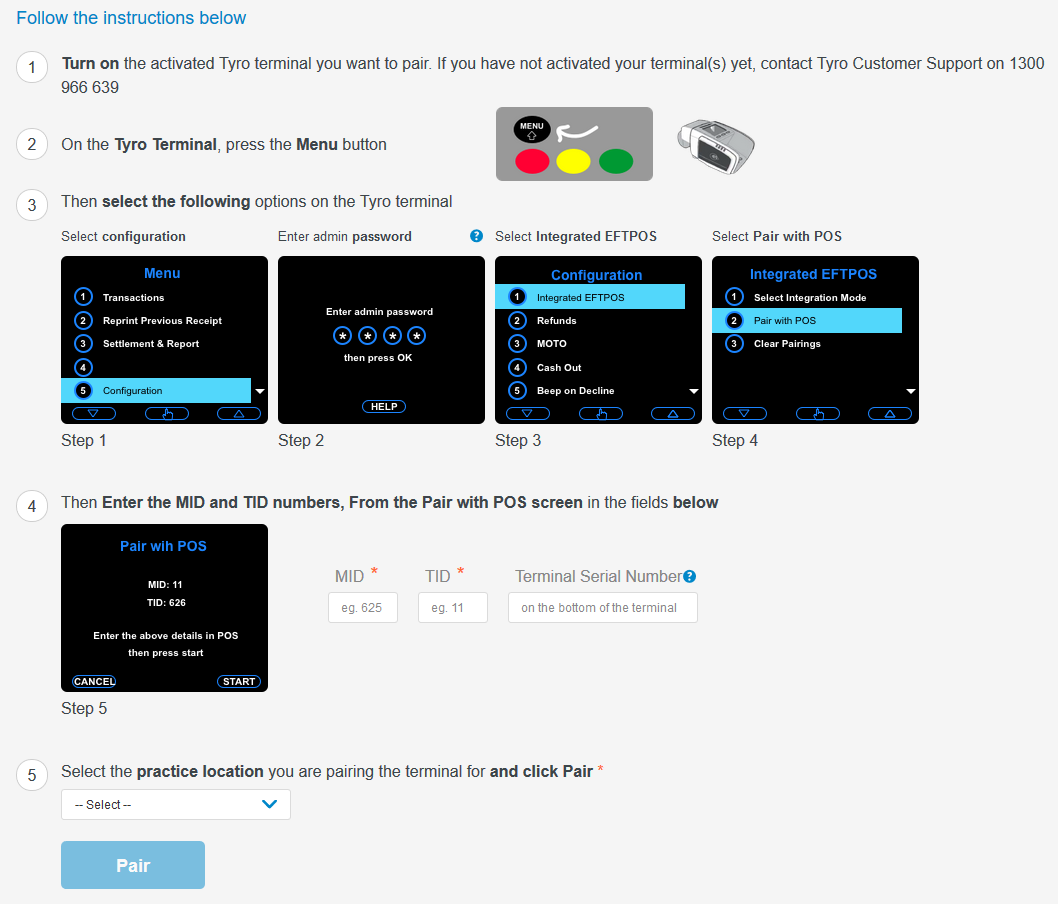 Paired terminal(s)
1. To view your paired terminals, click the drop-down arrow.


2. To disconnect an already paired terminal from Clinic to Cloud, click Disconnect.

3. To refresh the status of the terminal or delete the terminal in Clinic to Cloud, click the drop-down arrow icon.

4. Click Refresh to update your terminal status within Clinic to Cloud.

5. To delete a terminal from Clinic to Cloud, click Delete.
Note: You can re-add this later if required.

Map Bank Accounts to Terminal(s) how to map Multi Merchant ID's


To map your bank accounts to terminal(s) click the drop-down arrow.
Note: You can map users to multiple terminals if required.
1. Select the account holder name.

2. Add the MID* & TID* (Located on the Tyro terminal)
Note: If you require assistance finding this information hover your mouse over the blue tooltip for more information on where to find this.

3. Click Map.

4. If you need to remove the mapping, click Delete next to the user.
Further Reading