Brief Overview
When a patient lodges an unpaid or partially paid medical account to Medicare for payment, Medicare sends the patient a Pay Doctor Via Claimant (PDVC) cheque. The patient has to forward the cheque to the practice for payment.
If your practice doesn't receive the cheque or it isn't banked after 90 days, Medicare cancel the cheque and pay the practice the Medicare schedule fee using Electronic Funds Transfer (EFT).
This payment then needs to be receipted on the original invoice.
The Short Version
Search the Invoice History and add payment to Rebate Payment section
Run the Aged Debtors report and receipt multiple invoices at the same time
Instructions
Receipting the invoice through Invoice History
1. Click on the Invoice History icon

2. Search the invoice number or patient name

3. Go to the payment section and select Rebate Payment

4. Add the amount paid to the relevant payment type


5. If you are using the Patient Portal and would like this invoice to be visible to the patient, leave the Publish this Invoice radio button selected.

6. Click Save & Close or Save & Print if the invoice needs to be printed
Receipting the invoice from the Aged Debtors report
1. Go to Reports > General Reports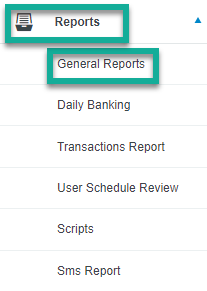 2. Select Report Type as Aged Debtors
3. Filter the report as required
4. Click Show
5. If there is any debt from 90 Day Gap invoices, these will be listed as Medicare 90 Day Gap. You can click on this option to see all debt associated with the 90 Day Gap.

6. To receipt off invoices, select the invoices using the tick box option. You can receipt multiple invoices in one go using this method.


7. Once you have selected all the invoices required select Bulk Pay and enter the amount into the correct payment type.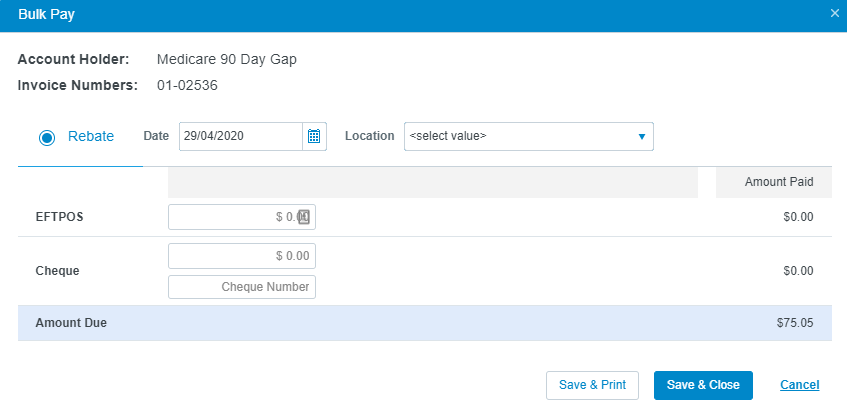 8. Click Save & Close or Save & Print if printing is required. This will receipt all invoices selected.
Further Reading