We're integrating with eRx to deliver electronic prescribing
This integration means that you will be able to:
generate barcodes for scripts

turn scripts into QR codes

create and email a QR code eScript

create and SMS a QR code eScript
Integration Status
15 June, 2023
Stage
Integration Task
Status
1
ePrescribing Development

Complete

2
Self Assessment Conformance

Complete

3

Observed Conformance

Complete

4

Submit Test Cases to ADHA

Complete

5

Complete - Live
Setting up for Electronic Prescribing
In order to use Electronic Prescribing and generate Paper Prescribing token, the following information is required.
HPI-O number for the Practice

HPI-I number for the practitioner/doctor/specialist

IHI number for the patient

eRx Provider Entity ID

Practitioner/Doctor/Specialist's Qualifications
Registering for eRx
When prescribing medications electronically using Electronic Prescribing, the normal legal paper prescription is superseded with electronic prescription data that is then stored in a Prescription Exchange Service (PES). This PES is managed by a third-party company, such as eRx.
In preparation for Electronic Prescribing, each prescriber in a practice is required to register individually with eRx (script exchange) and to obtain your eRx Provider Entity ID.
If you work in more than one practice, you will need to register multiple times.
NOTE: Please keep your eRx Provider Entity ID on hand as you will be required to enter this into your Clinic to Cloud environment when the new Electronic Prescriping feature is live.
Please follow this link: https://register.erx.com.au/prescriber to register with eRx for Electronic Prescribing services. Please have your prescriber number on hand to complete your registration.
When entering your details, make sure you select the "Clinic to Cloud" option in the Prescribing Software drop-down.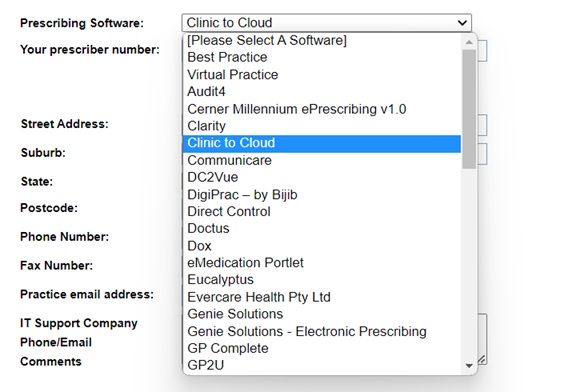 To find out more about setting up electronic prescribing click here