In this update, we made improvements to Contacts.
We also made changes to how Operation Reports are attached to letters.


Updating Contacts
You are now able to update an existing Contact and all work Locations.
You are also able to add an additional work Location to an already existing contact.

*Please Note
'Replace the entire Contact & all Locations with new details', will do just that.
If the contact that you are trying to update has 3 locations for instance, the new location selected in the search result will override the original 3 and replace it with the one selected.
No More Duplicates
We can now detect if you are about to create a duplicate contact if they already exist in your address book.

Other Improvements
If a Contact is linked to a Company, you can now update it through their hyperlinked name.
For filters Individuals, Assistants and Referrer, you can now sort the search results by 'Last Updated'.
When searching for a Contact, we now display the contact's speciality as well as their address so that it is easier to determine the individual you are searching for.
Attaching Operation Reports to Letters
We have made changed to how operation reports are attached to letters.
You will no longer see the below "Op Reports" search field as a way of attaching Operation Reports.

Instead, Operation Reports can be attached to letters in the same way that you are able to attach pathology or imaging results - using a letter tag.

The operation report tag is called 'Operation Report' and you can find in the letter tag list when you are creating or editing letter templates.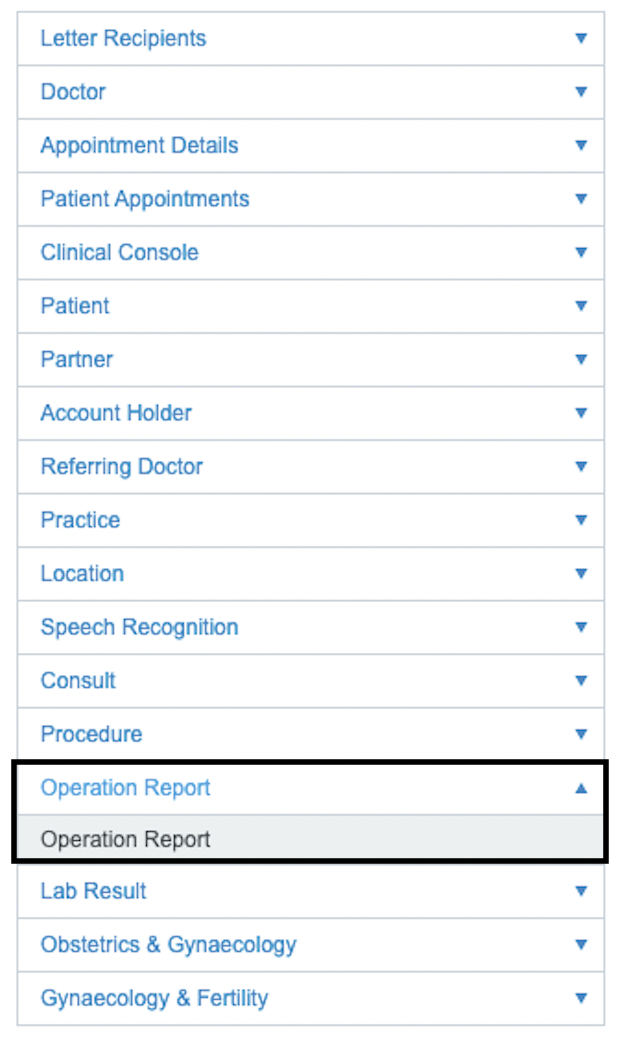 Once the tag is added to a template, and when you use that letter template, you will be prompted to select an operation report.

The operation report will attach itself at the end of the letter as an additional page.