This release forms the penultimate product update in the rebuild of the Contacts and Companies sections in Clinic to Cloud. This product update focuses on the way Companies are managed within Clinic to Cloud, and improves communication by combining the Contacts and Companies areas into a singular Address Book.
Removal of Company Tab
With the combination of Companies and Contacts into a central Address Book, the Company tab has been removed from the side-bar in Clinic to Cloud. All Companies will now be found within the shared Contacts window.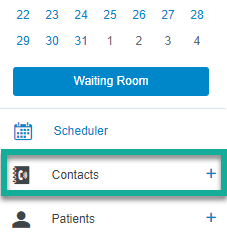 Creating a Company
You may now create a Contact or a Company using the same Create button within the Contacts window. After clicking on Create, you can then use the Person/Company toggle to choose the type of record you would like to create, and then fill in the details as required.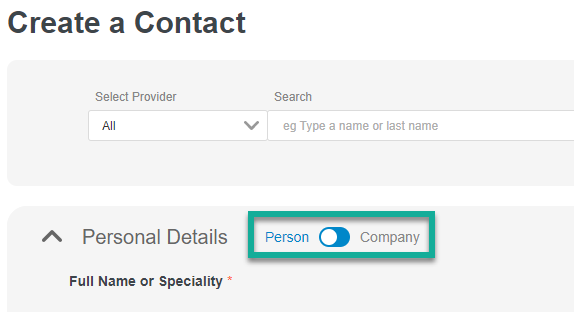 Note: You cannot change a record from a Person to a Company or vice versa once the record has been completed.
Custom Business Types
When creating a Company record, you may now select a Business Type from the choices provided, or create your own by freely typing into the field. Once you have saved the record, the Business Type will be added to the Business Type list for quick-selection in future.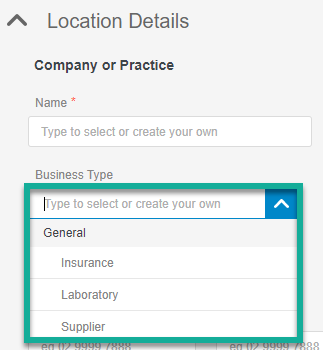 Deactivate & Activate a Company
If a Company record is no longer required, you may choose to deactivate the record to prevent it from showing in searches and within the Active Contacts List. To deactivate a Company, hover over the record in the Contacts List, and select Deactivate from the Actions menu.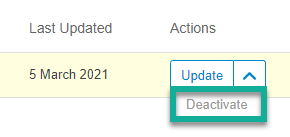 Once deactivated, a Company will move into the Deactivated tab of the Contacts List, and can be re-activated by selecting Activate from the Actions menu.

Filters
When filtering the Contacts list, you will now be able to choose between filtering to see Person or Company records. This will allow you to organise your Contacts List, and view items of a particular type as required.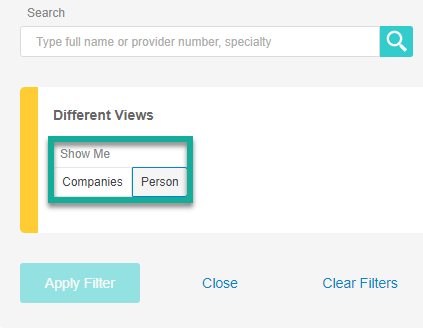 Link Contacts to Companies
Contacts may now be linked to Companies so you can easily track which practice or company a person works with/for. A Contact is linked to a Company by typing into the Name field within a Contact, and selecting or creating a Company record to link them to.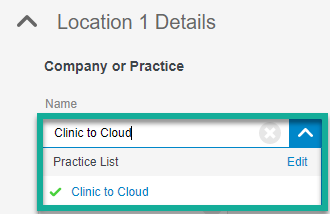 When a Contact has been successfully linked to a Company record, the display of the linked information will change depending on whether you are using the Person or Company filter, and how many Companies the record has been linked to.
When the Contacts List has been filtered to Company, you will see the Contact's location information grouped under the Company.

When the Contacts List has been filtered to Person, and a Contact has only one location or no location details entered, you will see the Contact's information shown within the grid ungrouped.

If the Contact has been linked to more than one location, then you will be able to expand their name to see all linked locations, and their relevant contact details.

Sending Attachments via Secure Messaging
Files may now be attached to letters that are sent from Clinic to Cloud via Secure Messaging, and they will be sent as a PDF attachment to the original letter. Please note, this functionality is only available in the new letter editor.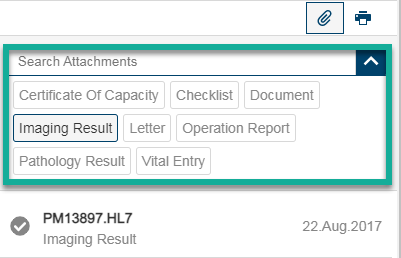 Bug Fixes
Healthlink information will now be saved correctly with or without an EDI entered in the Address Book.
The Contacts Location field will no longer maximise and minimise when accessing secure messaging information.
Contacts may now be deactivated and activated successfully.
Updating a Contact will now display a toaster message if changes are saved successfully.
Filtering in the Address Book has been improved.
Contacts created through the Doctor App can now be searched successfully.
Imaging/Pathology Requests will no longer present an error on preview.
Contacts may now be saved without a postcode.
Contact search will now function properly.
Deactivated Contacts will be excluded from searches.
Suburb and postcode will now correctly load in the Address Book.
Deactivating a Contact linked to several locations will now successfully show a toaster message.
Further Reading