We're constantly working to enhance your experience by introducing features that will improve your access to information and patient engagement. This update includes the rebate calculation logic of the Medicare Safety Net. This will mean that you are able to accurately communicate medical costs to patients. You will have the option of selecting this new rebate option when creating fee estimates or billing patients.
Brief Overview
The Medicare Safety Net is a government initiative that is subsided by our national health care system. The scheme has been designed to provide additional financial relief to patients, with high medical costs, by reducing their out-of-pocket costs after a threshold has been reached within a calendar year.
There are two types: Original Medicare Safety Net (OMSN) + Extended Medicare Safety Net (EMSN), and both workflows are now available within Clinic to Cloud.
These updates only apply to Private, Out-Patient services, also referred to as out-of-hospital services, such as consultations and medical tests.
The OMSN and EMSN are now available when adding item numbers to the following areas:
Invoices
Fee Estimates
Message to Receptionist
Operation Report
Note: This is not an integration with Medicare whereby we receive communication back regarding patient eligibility. Such an integration is not available.
Calculating the Medicare Safety Net in Clinic to Cloud
When a patient confirms that they have reached their Medicare Safety Net threshold, when adding an item number you will now see a toggle to Apply Safety Net Rebate. Once this is turned on you will see the option to either select the OMSN or the EMSN.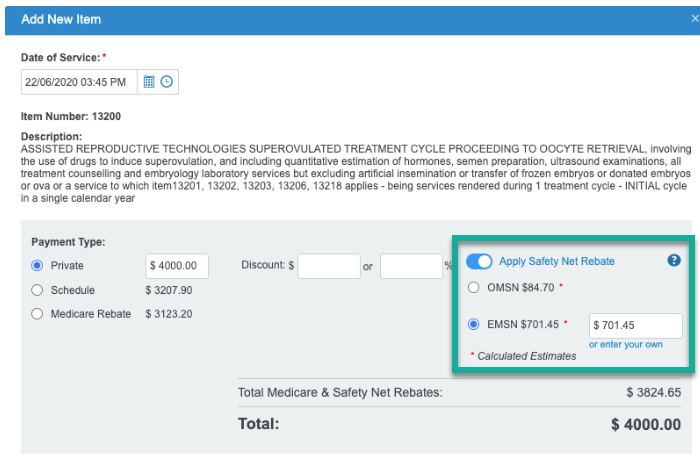 The Total Medicare & Safety Net Rebates will show the total of the Medicare Rebate and Safety Net amount.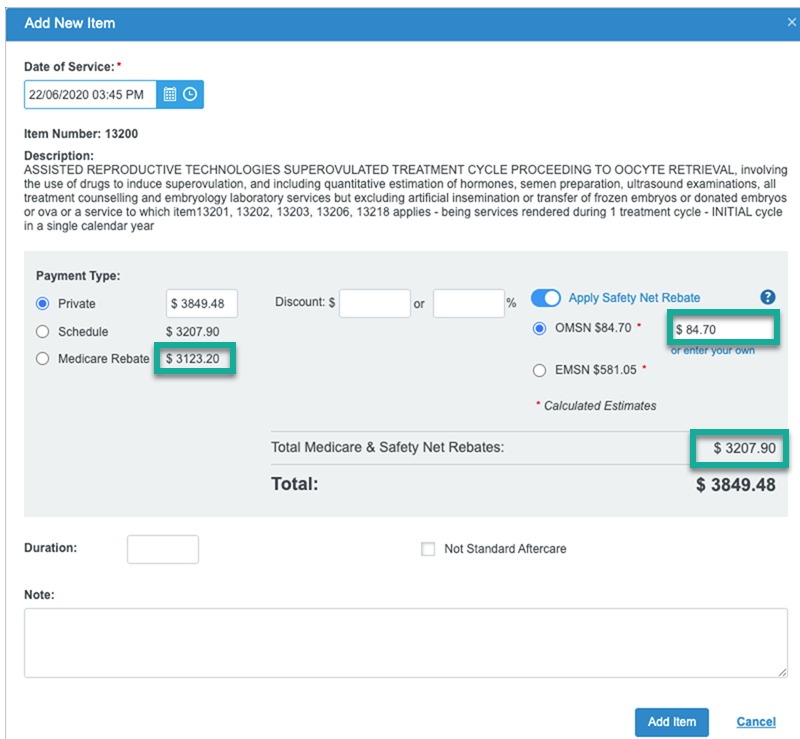 If you need to print the invoice/fee estimate for the patient, the rebate information will show on the printout. This ensures that the patient is provided with the correct out of pocket costs.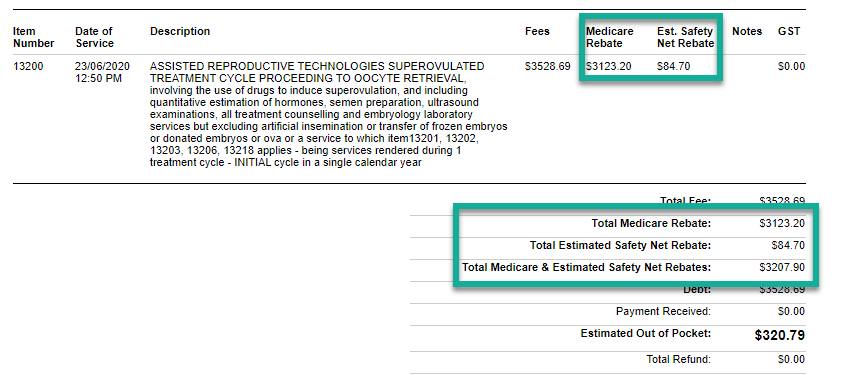 If you would like to learn more about the Medicare Safety Net and using this in Clinic to Cloud click here.
Further Reading