We're constantly working to improve your experience and introduce features that will improve your access to information and patient engagement. We have released the below items:
90 Day Gap Scheme Invoicing
Additional Vaccination Types
90 Day Gap Scheme
You now have the option in Clinic to Cloud to create a 90 Day Gap invoice. When a patient lodges an unpaid or partially paid medical account to Medicare for payment, Medicare sends the patient a Pay Doctor Via Claimant (PDVC) cheque. The patient has to forward the cheque to your practice for payment.
If your practice doesn't receive the cheque or it isn't banked after 90 days, Medicare cancel the cheque and pay you the Medicare schedule fee using Electronic Funds Transfer (EFT).
This change will only reflect if the Patient has Medicare Card details within the patient demographics.
Provider settings
In the provider settings we have renamed the Private Fees tab to Fee Settings.
This is where you will now have the ability to configure your fees for 90 Day Gap Scheme invoicing.
To learn more about Configuring Fee Settings click here.
Message to Receptionist
When finishing the consult the provider has the ability to select the 90 Day Gap as the type of invoice. This information will then be pre-selected when the admin creates the invoice.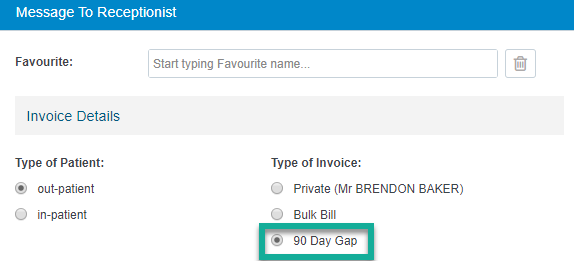 Creating an Invoice
When creating an invoice you will have the option to select the 90 Day Gap as the type of invoice. This will allow you to charge the patient the Gap only and claim the remaining amount through Medicare.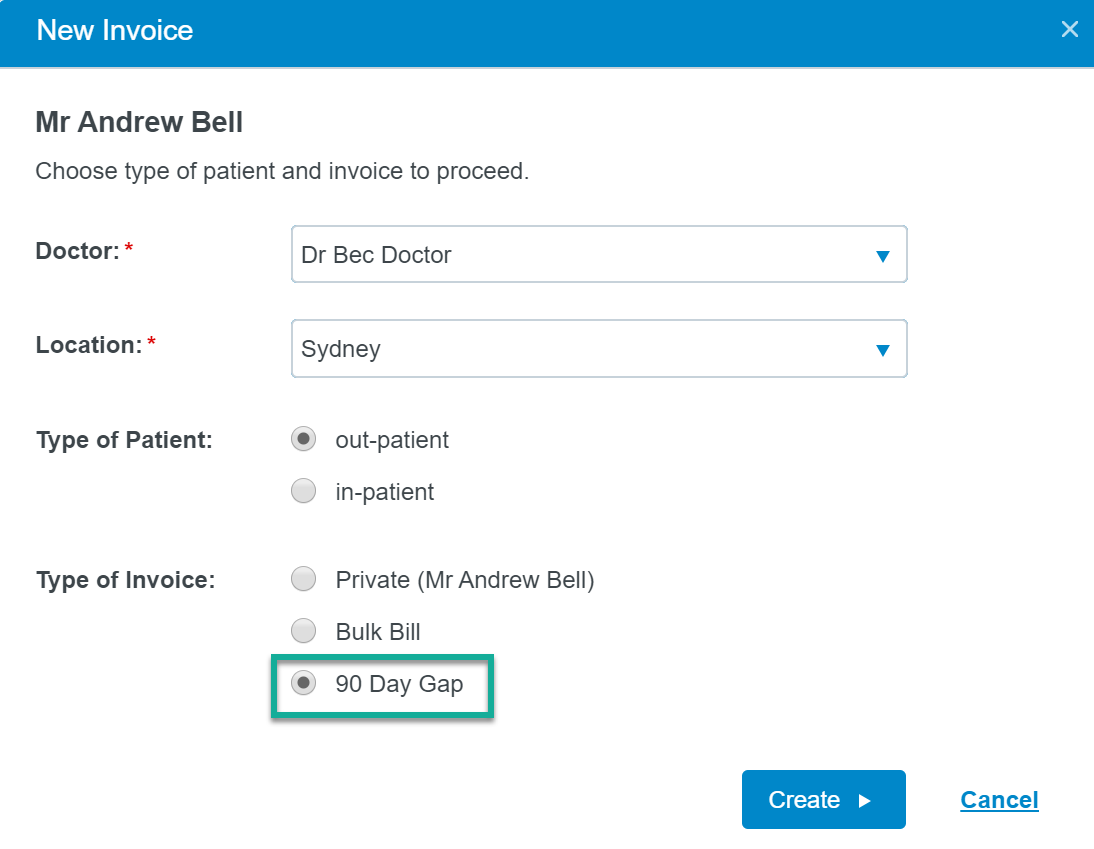 The payment section will allow you to take payment for the Out of Pocket amount and you can then select Save & Claim to send the remaining amount to Medicare.

Click here to learn more about Creating a 90 Day Gap Scheme Invoice.
Receipting your Invoice
Once the payment is received via Cheque or (EFT if 90 days has passed), you will be able to add this payment to the Rebate Payment section. You can find the invoice via the patients Invoice History or can add a bulk payment using the Aged Debtors report.

Click here to learn more about Receipting a 90 Day Gap Scheme Invoice.
This 90 Day Gap will also reflect in the Receipt Billing and Account Holders reports.
Additional Vaccination Types
The below vaccination types are now available when creating immunisation records in the clinical file, providing up to date vaccination information from the Australian Immunisation Register (AIR).
Nimenrix
Pneumovax 23
Zostavax
To learn more about adding immunisation records click here.
Should you have any enquiries or feedback, please call us on 02 8705 5808 between 8:00 am - 6:00 pm AEST Monday - Friday, or email us at support@clinictocloud.com.au.