Brief Overview
This feature allows you to see previous Consult/Diagnosis entries.
The Short Version
Review previous Consult/Symptoms entries.
Search for entries via naming convention e.g. Only show previous entries titled 'Anxiety' or 'Depression' etc.

Orange

titles are for Custom Consult Tabs and Green titles are for Symptoms.
Note:
Typos will not be pulled up in previous issues if the symptom is misspelled e.g. Diabetes and Diabeities etc. If the user makes a spelling mistake, this consult will not appear in the search results.
Instructions
1. When in the consultation screen, go down to the Past Issues area.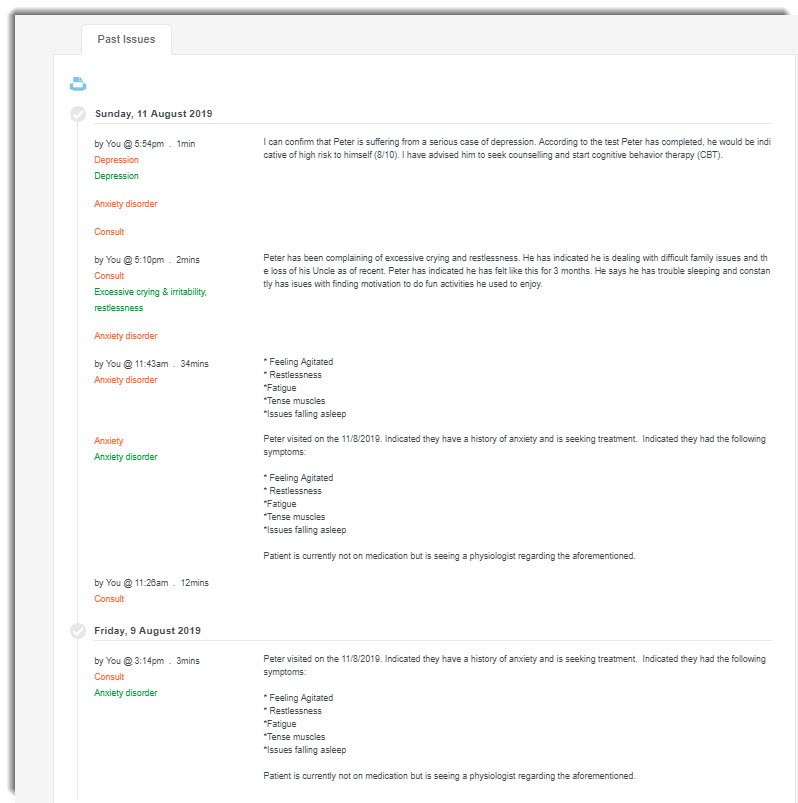 2. By selecting a particular Custom Consult Tab (Orange titles) (e.g. Depression) the screen will filter Past Issues to only show consults with that word in the title.

3. Any Consult in which a Symptom was recorded will have a green text associated with it. By click on this entry, you will also see if the Diagnosis is still Active.

4. You can print any Past Issue with the print icon.