In Clinic to Cloud you can only create an invoice for assistant billing for a provider in the practice who has been registered to the location with Medicare. Please visit Online Claiming - Medicare Forms for more information. You will only be able to claim for assistant billing once Medicare have processed those forms.
Note: You cannot bill on behalf of an assistant that is not in your practice. If the assistant is external to your practice and not in Clinic to Cloud they will need to use their own billing software.

If you need to bill for the assistant in your practice, please ensure that you set them up with an email address that shows they are added for assistant billing purposes only. E.g. assistant@clinictocloud.com.au
Also, Medicare only allows each provider number/location to be registered to one billing software, so if the assistant uses that provider number with another software for billing purposes, then Medicare will cut off their ability to claim in the existing software.
Assistant billing only works for inpatient billing. To create a particular invoice go to How to create an invoice and follow the first steps to create an invoice.
When adding the items numbers follow the steps below.
1. Once you have created the invoice click the edit pencil next to the external surgeon option.

2. Type in the name of the main surgeon or click the plus sign to add them into the contacts list.
3. Click Items to add the main surgeons item numbers
4. Add the items by typing in the Item number filed or alternatively searching by description. Once items have been added choose 'Save Items' to save.
5. Once you have saved this information you can add the assistant items. (This person must be a user in the practice)
6. The assistant will pre-fill from the appointment and you need to select the relevant item numbers.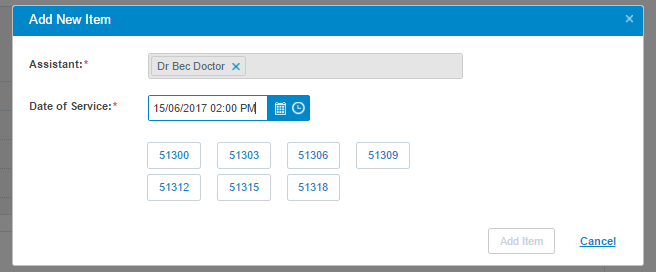 7. The item number and assistant will appear.

8. Continue through your invoice based on the type of invoice using the instructions under How to create an invoice