From the Scheduler
(invoice icon for the patient label is located on the top right side of the scheduler page)
With an appointment
1. If the patient has an appointment on the scheduler you can click their appointment once to highlight it (it will show a blue line around the appointment if it is highlighted) then click the invoice icon (shown above) PROCEED TO STEP 2
Without an appointment
1. Click the invoice icon and type the name of the patient
2. Choose the 'Doctor' and 'Location'

The above pop-up will appear. Complete the information 'in-patient' and 'Health fund (No Gap)' Then click 'Create'. (the Health Fund name will vary depending on the patients cover)

3. All of the relevant information will pull into the invoice from the appointment. If you have invoiced incorrectly (under the wrong location, date, account holder) you will need to re create the invoice.
4. The referral can be changed if required by clicking the 'Drop Down Arrow' or if there is no referral you can click the 'Plus icon' next to the 'Referral' section to add the referral details.


5. 'Informed Financial Consent Status' must be chosen for a Health Fund invoice
6. There are optional fields to complete if required
- 'Admission Date' and 'Discharge Date' are not mandatory fields, but if you want to complete them you can. If you do complete this section this invoice must be created after the patient has been discharged or it will error.

- 'Imaging Machine' only needs to be completed if you are billing for an LSPN related item number.
7. Type into the 'Item No' the relevant item numbers if known.
8. Alternatively you can search by 'Search by Description'
9. Once you have added your item you need to complete the relevant details for the item.
- You have the ability to add or change the 'Date of Service'. You can also add multiple dates onto one invoice.
- You will only see the 'Rebate' option, which is what the patients Health fund pays for this item
- Add 'Duration' time if relevant
- Tick the 'Not related Care Plan' or 'Not Standard Aftercare' if relevant
- Add 'Notes' to this item number if relevant
10. Click 'Add Item'
- The item will fill into the invoice
- Items to be added one by one as per instructions above
- Remove any item by clicking the 'Trash Can' icon
- MPR, If multiple procedure items have been added to an invoice the MPR rule will automatically pop-up and the 'MPR' tick box will be ticked (MPR = multiple procedure rule)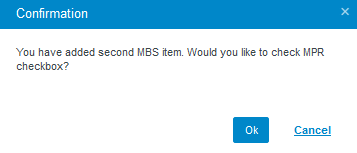 - You can then choose your percentage settings


- Add 'Distance' in km if relevant
11. 'Save and Print' if the patient wants a copy
12. 'Save and Close' to save and go back to the scheduler. This invoice is now ready to be sent through to Eclipse under the Claiming section. Click this link for How to Submit Eclipse Claims